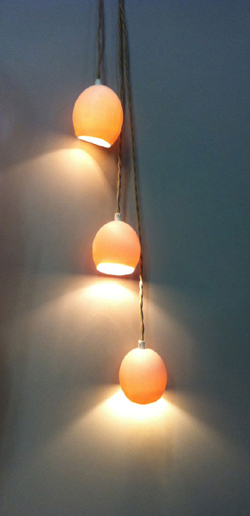 It's amazing how you can change your space just by adding a beautiful container of plants, or with lighting that creates a peaceful mood.  Both approaches have a way of transforming the energy and making everything seem new and fresh.  And when you're ready to change your space, here's the place for you to find that something special. 
Farrah Sit, who has a nice selection for you to choose from in her online shop, describes these elegantly simple porcelain planters and clustered hanging globes as "quiet minimalism."   And it's a fitting description.  But, all the same, the transformation of your space will come through loud and clear.  And Farrah Sit's pieces will be perfectly at home no matter what your style of decor.  They'll blend well wherever and with whatever, but their presence will bring a whole new point of view. 
So click on over now and check out Farrah Sit's porcelain energy changing decor.  This three-tiered hanging globe arrangement is $225.