Karin Lorenc is a potter and ceramic artist.  She creates beautiful mugs and bowls and other tableware that she fires at high temperature to make them strong and durable for everyday use.  And that means you can wash them in the dishwasher and use them in the microwave.   I especially like the clean, elegant, modern feel of her white stoneware with brightly colored insides.  So that's what I'm featuring today.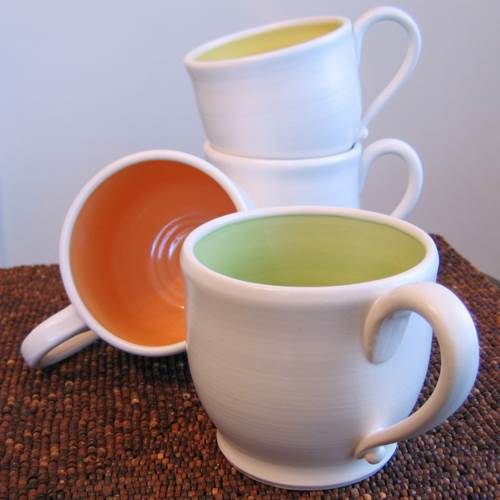 Set of Four Stoneware Mugs, $86
These stoneware mugs are huge.  They hold about 18 ounces of something yummy.  So if you're trying to get down to one cup of coffee a day, this is the cup for you.  They're great for chili and soup, too.  This is the summer colors set.  You might also like this other design in spring colors.  Or this one in white and blue only.  You can also choose your mugs individually, and she also has some in sets of two.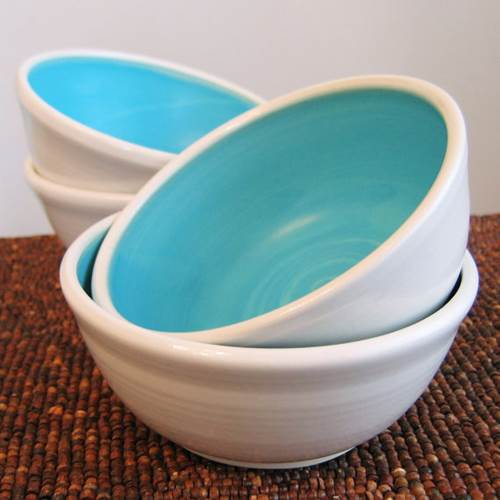 Set of Four Ceral Bowls, $84
These festive cereal bowls are just over 5 inches in diameter and are 2-1/4 inches high.  So they're pretty roomy.  If you usually have to go back for seconds, these bowls may fill you up with one serving.  Karen has more bowls to choose from, including this set of four in lime green, and some nice nesting bowl sets.

You'll also find casseroles, garlic graters, and some other pieces for the kitchen and table.  So click on over to Karin Lorenc and check them all out for yourself.