There's a new Melissa Joy Manning shopping page at Heartful Village, with loads of beautiful new earrings, necklaces, bracelets, and rings by this talented designer.  There are even some Melissa Joy Manning cufflinks and jewelry boxes.  All told, there are over 300 new pieces.  There's something in this collection for everyone, with many pieces under $100.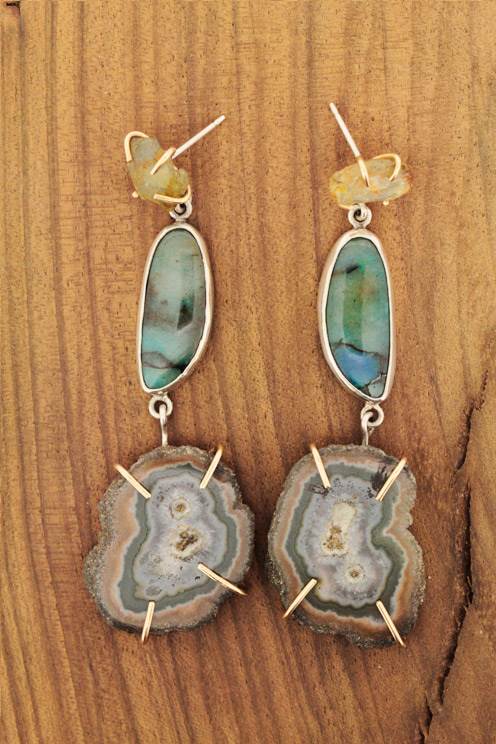 Triple Drop Earrings - Aquamarine, Chrysacolla & Stalgtite
Melissa Joy Manning is a "green" designer whose jewelry is  made from conflict-free stones and recyled gold and silver.   As you would expect, Manning's respect for the earth is reflected in her choice of materials and in her production practices.  But her love of mother earth is also reflected in Manning's design aesthetic.  When you browse the extensive Melissa Joy Manning collection of sustainable jewelry, you'll see that many of her designs make use of such interesting natural elements as fossils, petrified wood, and stones in their raw natural state. 
Take these Triple Drop Earrings for example.   They're constructed (from top to bottom) of freeform raw pale aquamarine stones, cabochons of free form chrysocolla, and slices of stalagtite.  They're a beautiful wearable mineral show, and a very real connection to nature and to the natural history of our planet. 
Many of the pieces in this collection are one-of-a-kind or limited edition, so click on over now and check out the Melissa Joy Manning Shopping Page.