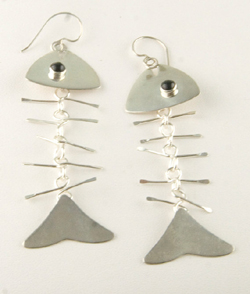 These handmade sterling silver fishbone earrings are long (2-3/4 inches), dangly, and fun.  The onyx eyes are a nice touch, giving them a kind of abstract art appeal. 
They're whimsical, but they'll go with anything, from a big white shirt with jeans to a litle black dress for cocktails.
I found them at Jan Polombo Design, where you'll find loads of other unusual nature inspired handmade jewelry.  These are $108.